Exterior Painting West Palm Beach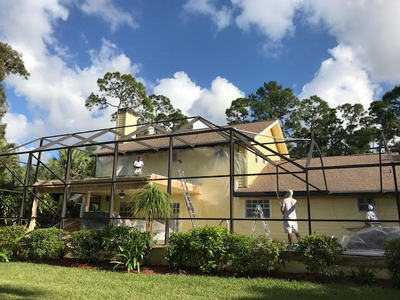 RELIABLE & TRUSTWORTHY
Exterior Painting West Palm Beach
---
A nice paint job has the ability to change your home. Even if your home is strong and well-built, it is not excellent without paint that makes it more appealing. It is therefore essential to hire experts who are proud to offer the finest external painting services on this side of the city. A company such as A1A Palm Beach Painters.
You can brand your home's outer paint, but if performed by a specialist, the paint can stand better through the seasons. We are dedicated to offering you the finest external painting facilities at Exterior Painting A1A Palm Beach Painters since we only hire the finest artists. In addition, we use only the finest paint in your budget.
QUALITY FIRST
You Should Get Exterior Painting for your home
---
You could be in a finicky state to make an outdoor painting because you believe that your walls still look good in your eyes, but you should consider painting your outside for many reasons. 
If you build a house, you would ideally have your house painted because it can also protect the structure from the components. If your old paint color is starting to fade, this might signal that it's time to get a new paint job for your home. Help your home keep a good appeal by getting your painting done with us at Exterior Painting A1A Palm Beach Painters. 
You ought to attempt to change your home paint every 10 years or so, similar to your electric wiring. For health and aesthetic purposes, you should do this. If your paint is over 10 years old, it is easy to chip, which may be dangerous because young kids can eat it. Moreover, the paint you used ten years ago is outdated. So it's time to modernize your home.  As described in the previous paragraph, you will have to add new paint once the previous paint on your home has already been peeled or chipped. You can attempt and cover the peeling and chipping, but the rest of the wall is also likely to peel.
If you don't like your current color, you should change it. It's your home, after all. You should be able to return back to a house that satisfies you. It's time you turn your paint on if you keep irritating yourself. Contact us now if you're interested in any of our services. We promise you it will be worth it if you're serious about changing things around your home.
Here is a list of the services you can get at A1A Palm Beach Painters:
There are so many areas or regions where we offer these services with most of them being cities.
---
However, if you need any of these services, you need to contact us. The list below comprises the areas where we offer these services.